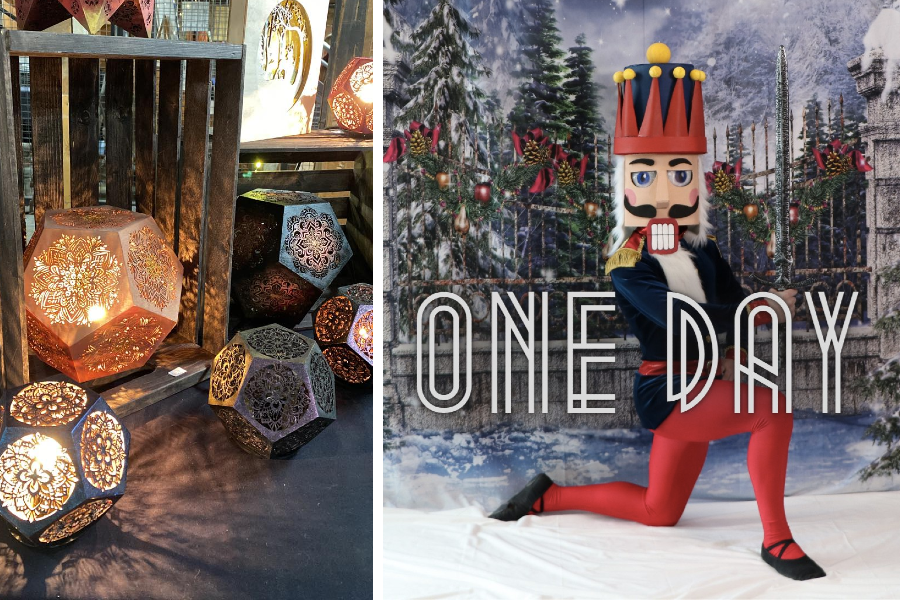 Weekend events and music: "The Nutcracker," Art Market encore, Holiday Ball, Skate with Santa, and more
Left: (ART 321, Facebook) Right: (Rising Star Tumbling and Dance Studio, Facebook) CASPER, Wyo. —
CASPER, Wyo. — The holidays are in full swing and the weather has finally taken note. Hearts and bellies will be warmed indoors will family-friendly festivities, including a holiday-themed fantasy ball and rendition of "The Nutcracker" by Rising Star. Though it's crunch time for Santa Claus, he's also making a few appearances in the Oil City.
The Live Music roundup is below.
Submit your events or updates to [email protected]
Holiday Art Market at ART 321
ART 321 is hosting over 20 artists and artisans and will be showing off its newly renovated basement during its annual Holiday Art Market.
Saturday, December 11
10 a.m. to 4 p.m.
ART 321 (321 W. Midwest Ave.)
"Little Women" at Stage III 
Stage III Community Theater is debuting "Little Women," a dramatization that plays closely to the classic Louisa May Alcott novel it's based upon, on Friday, December 3.
Performances will be at 7:30 p.m. Friday and Saturday, December 10-11. A Sunday, December 12 matinee will play at 2:00 p.m. The play will have its final shows Friday–Sunday next weekend
Tickets are $13.50 for adults and $11.50 for students and seniors.
"Call 307-234-0946 now to reserve your seats."
Dream Upon a Princess Holiday Ball Saturday at The Lyric
"It's a night of entertainment that all little princes or princesses will enjoy."
"This year, it will be filled with dancing, singing prince and princess songs, Christmas carols, along with a magical story-time, and coloring with some of their favorite princesses; of course, there will be treats! "
Tickets can be found here.
The Lyric (230 W. Yellowstone Highway)
Saturday, December 11
5:00 – 7:00 p.m.
Regular Tickets: $36
Chaperone Passes: $6
VIP: $55
Ages 3 and up recommended
Visit their Facebook event page here.
Rising Star presents "The Nutcracker"
Rising Star Dance Studio will present the holiday classic one day only this Saturday. 
Two Shows: 1:30 and 7:00 p.m. (live links available)
Kelly Walsh Auditorium (3500 E. 12th St.)
Tickets are $20-$25 for adults and $15 for children 12 and under
Live Links for $15.00
Tickets are available here
Hands-on history, model railroading at the Trails Center
Guests are invited to view and operate a variety of model trains. Members of the Casper-based Central Wyoming Model Railroad Association will be on hand to assist and educate train enthusiasts.
The display will be open at the Trails Center, located at 1501 N. Poplar St. (by the Ford Wyoming Center), from 9 a.m. to 4 p.m. , and throughout December. More information about the CWMRA from Oil City News is available here.
The all-ages Hands-on History Club meets at on 10 a.m. on Saturdays, and will kick off its holiday lineup Saturday, Dec. 11, with "Holiday Victorian Papercrafts"
"Happy Holiqueer" cookie decorating at ART 321
"We're taking over Rainbow Collective at Art 321 on December 10 as we decorate holiday cookies from Life Is Sweet!" organizers state. "We'll have hot beverages and other snacks to accompany an evening of holiday festivities. Happy Holiqueer, friends!"
Friday, December 10
6 p.m. to 8:00 p.m.
ART 321 (321 W. Midwest Ave.)
All ages
Free
Local Authors book signing at Wind City Books
On Saturday, December 11 from 11 a.m. – 1 a.m., Local authors Gayle Irwin and Debra Moerke will be signing books and promoting their latest works at Wind City Books.
"Gayle will have her previous pet rescue romance series books here, as well as her newest 'Paws-ing for Love: A Pet Rescue Story,'" event organizers said. "Debra will be featuring her story 'Murder, Motherhood, and Miraculous Grace: A True Story.'"
Find out more about the authors' works here.
Skate with Santa at David Street Station
Santa will be at the outdoor rink at David Street Station Saturday from 1:00 p.m. – 3:00 p.m.
Adult Admission: $6
Youth Admission: $5
Toddler Admission: $3
Ice Skate Rentals: $3 
Santa at Old Town Family Fun
Lunch with Santa includes a "family-friendly lunch, hot cocoa bar, crafts, [and] visits with Santa for pictures and gifts."
Tickets are required and are $15 per person; toddlers ages 1-3 are $5.
Old Town Family Fun (301 West E St., by the Clarion)
Saturday, December 11
11:00 a.m. (a 1:30 p.m. lunch will be added if the first sells out)
Kevin Paul's Ghost at Frontier
Wyoming native singer-songwriter Chase Mangus's one-man band is named in honor of Kevin Paul Alberts.
Frontier Brewery and Tap room (117 E. Second St.)
Friday, December 10
6:00 p.m. – 8:00 p.m.
Free
The Avengers
Spotlight Lounge (128 E. 2nd St.)
Friday, December 10
Show at 7:30 p.m.
Wyoming musician Brock Finn at Gruner Brothers
Gruner Brothers Brewing (1301 Wilkins Circle)
Saturday, December 11
7:00 p.m. – 10:00 p.m.
Ugly Sweaters encouraged
Wyoming native and "The Voice Season 3" contestant Aquile performs at the Beacon
The Beacon Club (4100 W. Yellowstone Highway in Mills)
Friday, December 10
9:00 p.m. 
$5 cover
Zack Schommer at Frontier
The prolific Casper-native performer is known for his wide variety of covers and originals. According to his social media page, he has been hard at work in the studio on a new album, so Saturday's performance at Frontier should be rife with classic staples as well as new material.
Frontier Brewery and Tap room (117 E. Second St.)
Saturday, December 11
6:00 p.m. – 9:00 p.m.
Free
Matt Stairs in concert
Read the full article from Oil City News here.
Sunday, December 12
4:00 p.m.
First United Methodist Church
General admission: $13
Seniors: $12
Students and teachers: $7
12 and under: $5
Tickets can be purchased here or at any of the following outlets:
The Bon Agency Insurance
 Express Printing
The Hill Music Company
Sonic Rainbow
Related